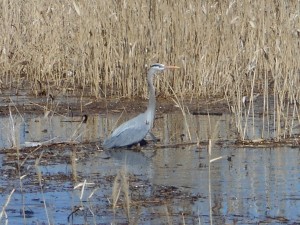 We heard Tundra Swans had been sighted at the Montezuma National Wildlife Refuge near Syracuse, NY. I'd always wanted to see them. So, on the weekend Ellen and I drove over.
On Saturday we saw hundreds of migrating ducks including two of my favorites, the Hooded Merganser and the Buffle-head. We even had to stop the car while Great Blue Herons crossed in front of us, but no swans.
That night we stayed in Seneca Falls, the town that Jimmy Stewart's movie, It's a Wonderful Life was based on.
The next day we tried again, but still couldn't fine Tundra Swans. We saw Bald Eagles and Red-tailed Hawks soaring overhead, while Northern Shovellers  and American Widgeons dabbled in the marsh.
We talked with some people who had heard reports of Tundra Swans not far away. We drove around the countryside on the back roads searching for the elusive birds. Just as we were about to head back home we came around a bend in the road and there they were! Hundreds of Tundra Swans swimming and feeding in a flooded field.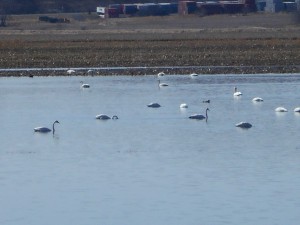 In two days we also saw Double-crested Cormorant, Mallards, Ring-necked Ducks, Ring-billed Gulls, Canada Geese, Blue-winged Teals, Nesting Ospreys, Green-winged Teals, Pied-billed Grebes, Ravens, Ruddy Ducks, Tree Swallows, Song Sparrows, Turkey Vultures, Pileated Woodpeckers, Mourning Doves, and Northern Pintails. Plenty of material for more carvings. To plan a visit go to:  http://www.fws.gov/refuge/montezuma/