Upcoming Classes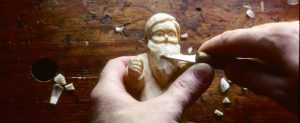 Woodcarving Classes in 2020
Rick and Ellen Bütz are teaching three weekend and two one-day woodcarving classes in 2020. Learn how to carve and paint a Santa, Hermit, Chickadee or Loon. Other topics covered include tool selection, sharpening, and safe carving techniques. All tools and materials are provided, but if you have your own carving tools and small paintbrushes please feel welcome to bring them. Classes are for beginning and intermediate woodcarvers age 16 to adult.
For dates, projects and registration information see the class listings below.
Remember to register early, class size is limited to 12.
2020 Carving Classes
Friday, May 29 – Sunday, May 31, 2020
Black-Capped Chickadee
Prospect Point Cottages
3381 New York Route 28
PO Box 113
Blue Mountain Lake, NY 12812
Phone: 518-352-7378
www.prospectpt.com
Saturday, June 6, 2020
Miniature Loon
Adirondack Folk School
PO Box 2
51 Main Street
Lake Luzerne, NY, 12846
Phone: 518-696-2400
www.adirondackfolkschool.org
Friday, July 10 – Sunday, July 12, 2020
Miniature Loon
Great Camp Sagamore
PO Box 146
Raquette Lake, NY 13436
Phone: 315-354-5311
www.greatcampsagamore.org
Friday, August 14 – Sunday, August 16, 2020
Adirondack Hermit
Great Camp Sagamore
PO Box 146
Raquette Lake, NY 13436
Phone: 315-354-5311
www.greatcampsagamore.org
Saturday, October 3, 2020
Old World St. Nicholas
Adirondack Folk School
PO Box 2
51 Main Street
Lake Luzerne, NY, 12846
Phone: 518-696-2400
www.adirondackfolkschool.org