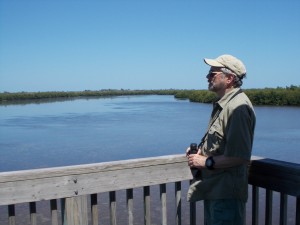 I recently had the good fortune to visit the Ding Darling Wildlife Refuge on Sanibel Island in Florida. It's a 5,200 acre wilderness refuge famous for its spectacular migratory bird populations, and encloses the largest surviving mangrove ecosystem in the country. It is named after J. Norwood "Ding" Darling a political cartoonist who spearheaded conservation efforts in America in the early 20th Century.
Here are a few of the birds I saw on our visit. The Visitors' Center houses an amazing collection of wildlife woodcarvings by the legendary Jim Sprankle like this life-size Anhinga.
I had the pleasure of talking with Jim, and will tell you more about his carvings next time.