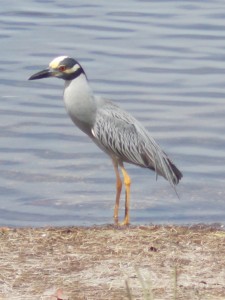 I couldn't believe my eyes when I saw this bird walking along the beach on Sanibel Island in the middle of the day. It's a Yellow-crowned Night Heron, a large nocturnal bird found deep in the marshes and mangrove swamps. It reminded me of what one of my favorite outdoor writers and philosophers Ernest Thompson Seton once said, if you sit still long enough something interesting will walk by. How right he was.
Seton was born August 14, 1860, and became an award winning wildlife illustrator and naturalist. In 1907 he made a 2,000 mile canoe trip through Northern Canada making the first accurate maps of this wilderness region.
As Chairman of the founding committee of the Boy Scouts of America, he wrote the first Boy Scout handbook. He promoted nature and the protection of wildlife until his death at the age of 86.